Staying on Construction Schedule in Spite of Weather Delays
In our industry, we can't control the weather, but we can stay proactive. Being in the construction industry means working outside amid the elements. Our job is to stay on schedule in spite of weather delays, which means preparation and planning ahead are crucial.
A notable example of staying on schedule despite a weather delay is Goodman Elementary. In April of 2017, Goodman Elementary and the Neosho School District were impacted by tornado destruction. Branco was then selected to help the school district rebuild their new school, and rebuilding quickly was incredibly important to the community. Our team then encountered 48 weather days, while customary schedules are allotted for only 20 weather days; that's more than two times the average amount, but our team didn't let that hinder our progress. We completed the school prior to our contractual completion date, building a 48,000 sq.ft. school in just nine month time. Our experience, flexibility, and planning allowed us to complete on time and on budget. Forward progress and proactivity is, and always will be, our goal.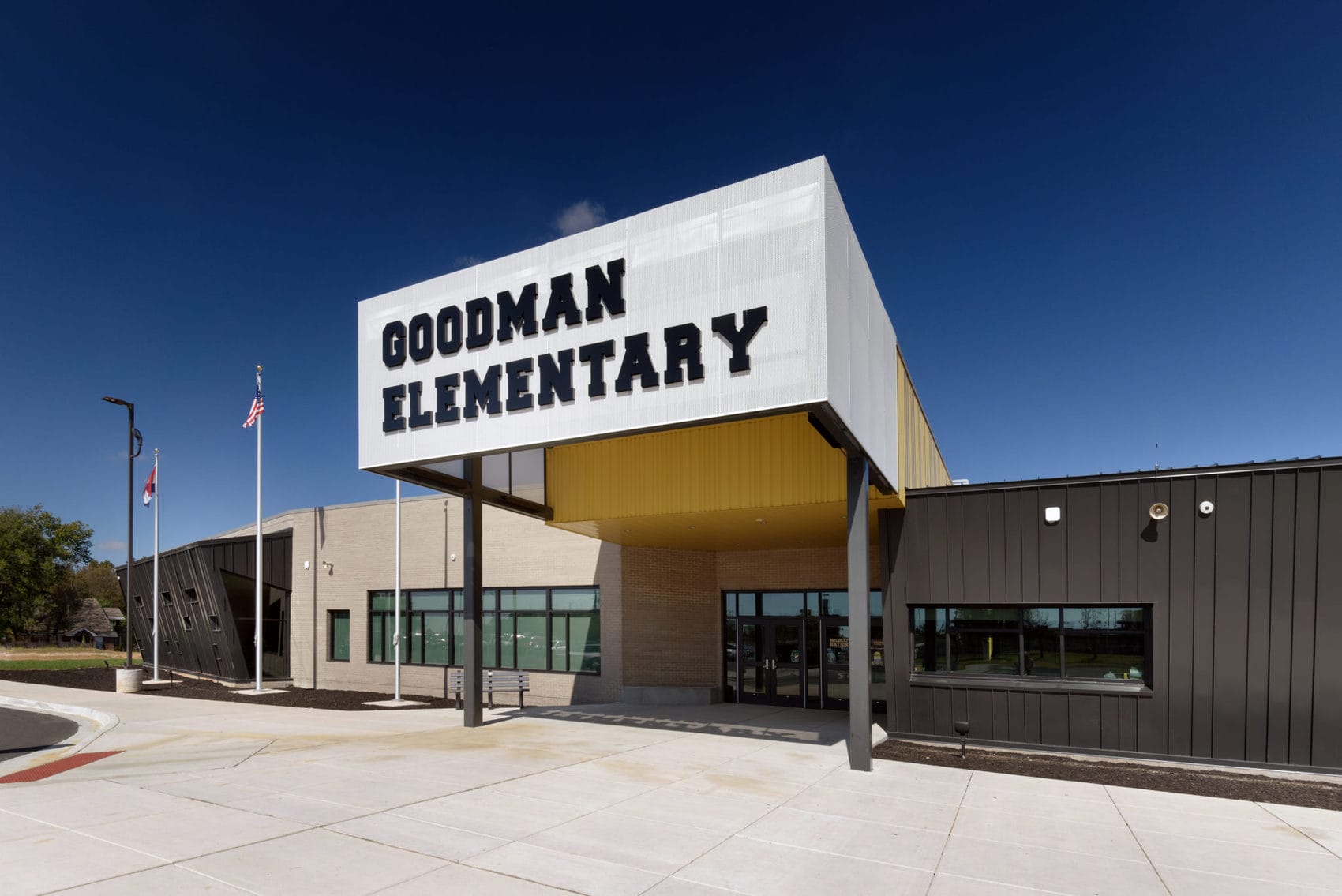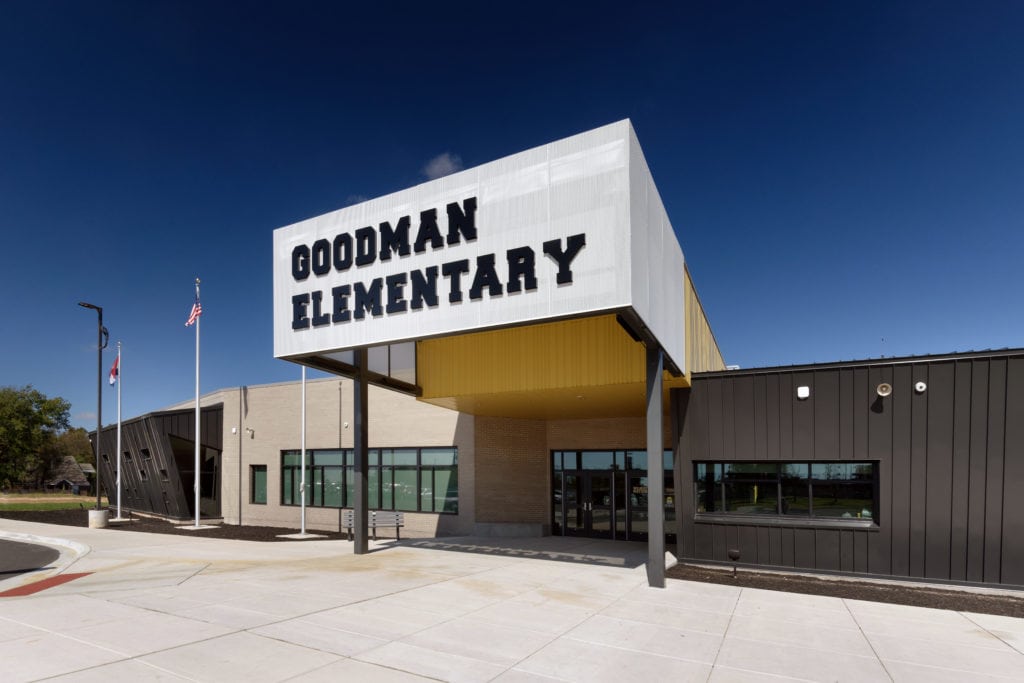 Safety in All Weather Conditions
In this article, we aim to educate, train, and inform our industry with general guidelines on how to recognize dangers, prevent incidents, and maintain safety when crews are exposed to multiple weather conditions. Listed below are some of the most common weather delays, how we may remain safe amid weather conditions, and the ways we stay prepared for them. Goodman Elementary is just one example of how weather delays could potentially impact schedule; it's important to remain safe and ready regardless of what type of weather may arise.
Wet Condition Safety
Awareness of wet weather conditions range from rainy spring days, hazardous rainstorms, and melting ice during winter weather. This can be tricky when you are working on elevated surfaces that can become quickly slick, such as steel structures. That being said, just because it doesn't appear to be a torrential rainstorm, it doesn't mean that the hazard of slipping and falling is any less. It's important to prepare for rainy conditions, regardless of their severity.
<You should always wear protective gear. This includes raincoats and waterproof footwear, as well as flotation devices if you are near moving bodies of water. Likewise, rain can be cold during much of the year, workers should be aware of the temperature and dress accordingly to protect themselves against cold rain. You should also be aware of surfaces, scaffolding, and walkways that may be wet; slipping and falling can be fatal. Rain and thunderstorms also increase a chance of lightning, so workers should be aware of metal equipment and steel framework that can act as a lightning rod. And lastly, be aware that the rain and winds can cause heavy equipment to operate more difficultly, especially those with elevation capabilities.
Lightning Safety
Lightning can often be overlooked, as it is a routine and natural part of most thunderstorms, but we want to stress the importance of preventing severe injury or death. In the United States, over 300 people are annually struck by lightning and Branco recognizes that lightning is an occupational hazard to our industry's outdoor worksites. Construction workers have a much more significant risk of lightning exposure and many workers are caught outside in a storm or go back outside too soon before the storm has passed.
First, check your local weather reports prior to beginning any outdoor work and continue to monitor the weather conditions while outside on the job site. Workers should not begin any tasks that they cannot quickly halt if weather reports call for incoming thunderstorms. However, we know that you can't always plan ahead for a thunderstorm. If inclement weather occurs where lightning is a possibility, workers should seek shelter in a roofed building and remain in that shelter for at least 30 minutes after hearing the sound of thunder. In a last minute scenario, workers can also seek shelter in a vehicle, and should still remain in that vehicle for 30 minutes after hearing the last thunder. OSHA also recommends halting corded phone activity after hearing thunder, unless there is an emergency.
Preparing for the worst; If you do find yourself outside in a thunderstorm where lightning is occurring, there are a few measures you can take, according to NOAA, to decrease your risk of being struck:
Avoid the tallest objects and buildings

Avoid tall trees, utility poles, towers, and all metal elevated equipment and structures

Avoid open areas and never lie flat on the ground

Find areas of smaller trees that are surrounded by larger trees

Avoid all water and bodies of water, as water is a conductor of electricity

Avoid all electrical conductors, such as wiring, plumbing and fencing
OSHA considers maintaining lightning safety when working outdoors a crucial part of any outdoor job. For a great reference on lightning safety straight from the source, you can download the OSHA Lightning Safety Sheet here.
Winter and Cold Weather Safety
As an employee in construction, cold stress is one of the biggest risks during cold weather. Cold stress is a condition that occurs when a worker is exposed to cold air temperatures. In cold weather, increased wind speeds cause heat to leave the body. Cold stress occurs when the skin temperature decreases, thus lowering the internal body temperature. When the body can no longer warm itself externally, injury can occur which may result in permanent tissue damage. Some of the biggest risk factors that are associated with cold stress are wetness/dampness of external clothing and not dressing properly for weather conditions. Workers should also be aware that predisposing health conditions such as hypertension, hypothyroidism, and diabetes could also increase your risk of cold stress.
Common types of cold stress include the following:
Trench foot, which is an injury of the feet caused by prolonged exposure to wet and cold conditions. Symptoms of trench foot can be red skin, pain, swelling, numbness and blisters

Frostbite, which is caused by the freezing of tissue. Frostbite can cause permanent damage to the body and the likelihood is increased when workers are not dressed properly for extreme cold. Symptoms of frostbite include reddened skin that develops white/gray patches in the fingers, toes, nose, or ear lobes

Hypothermia, which results in an abnormally low body temperature when workers are exposed to cold elements and the body loses heat faster than it can produce
The good news is that cold stress can be prevented through proper training and prevention. At Branco, we recognize the environmental conditions that can lead to cold stress and aim to properly educate our employees on symptoms and prevention. You and your crew's safety is our top priority.
High Wind Safety
The lightning and precipitation are a huge priority when it comes to working safely outdoors, but not as recognized are the dangers of high winds on a construction site. Some of the most common hazards that are created by high winds are:
Strains/sprains due to wind forcefully pulling doors

"Struck-by" incidents due to objects blowing around at high speeds

Eye injuries due to small particles of flying debris and dust

Objects falling from elevated surfaces
The best way we can prevent injury is to be preventative. In extreme high wind situations, workers should cease tasks altogether that are dangerous when performed in excessively windy conditions. Likewise, when winds are high, don't attempt to conduct lifting operations. Contact your supervisor if you are unsure of the certain wind speed that constitutes ceasing work activity. At the least, workers should be wearing safety glasses or goggles.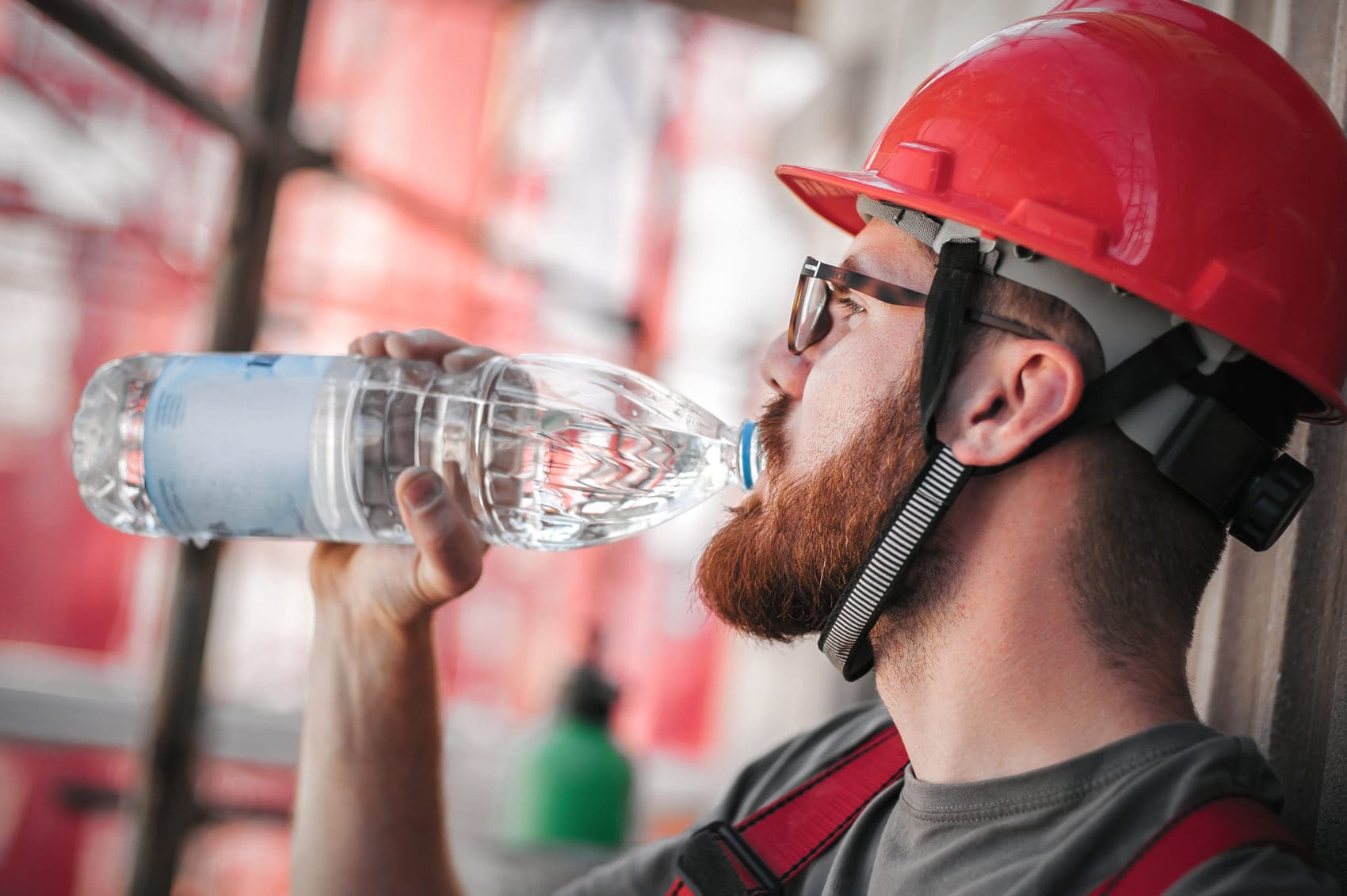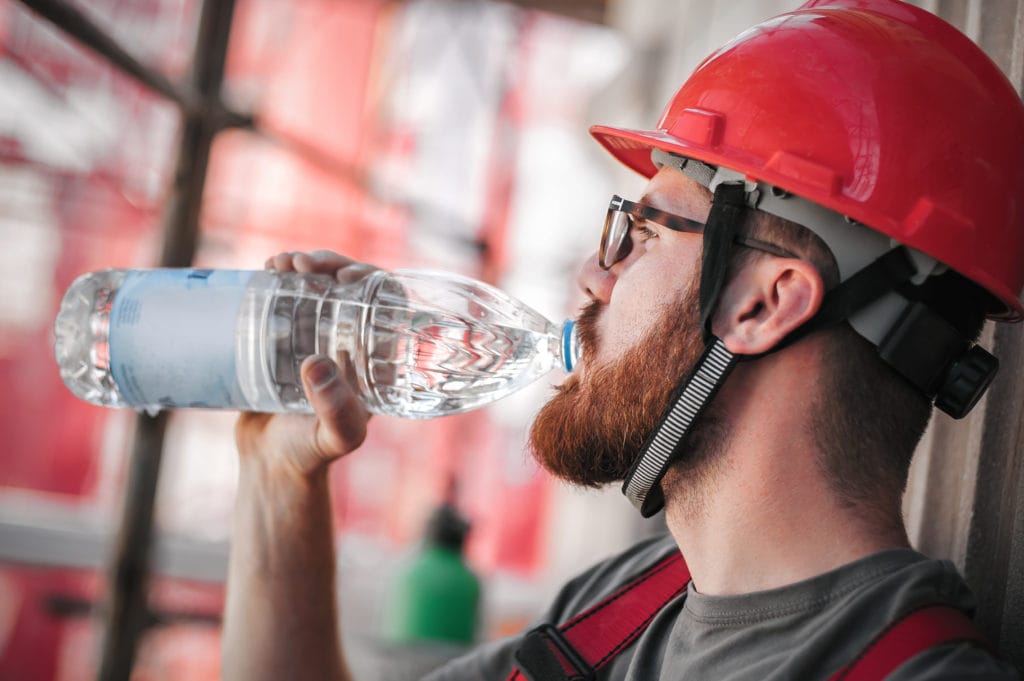 Heat Exposure Safety
According to OSHA, most outdoor worker fatalities, 50% to 70%, occur in the first few days that you are working in warm environments. The human body typically needs to adjust to increases in work temperature gradually, building a tolerance, which is called heat acclimatization. A lack of heat acclimatization is a major risk factor in your occupational health and the following are the most common heat-related illnesses that workers should be aware of:
Heat stroke, which can be identified by symptoms of confusion, slurred speech, seizures, unconsciousness, a high body temperature, and rapid heart rate

Heat exhaustion, which can be identified by symptoms of fatigue, irritability, thirst, nausea/vomiting, light headedness, and heavy sweating

Heat cramps, which can be identified by muscle spasms and pain, that usually occur in legs or arms

Heat syncope, which causes fainting/dizziness

Heat rash, which can be identified by symptoms of clusters of red bumps on the skin that appear on the neck, upper chest, and skin folds

Rhabdomyolysis, or muscle pain and weakness, identified by dark urine, or reduced urine output, weakness, as well as specific muscle pain
Taking the proper precautions can prevent all heat-related illnesses. Branco trains supervisors and workers to control and recognize heat hazards, implement sufficient methods of rest, available shade, and fluids, and determine the conditions of each workday and the hazardous risks they may pose. On-site monitoring is key and all industry workers should implement a plan making health, safety, and productivity a priority.
We Work Together
Keep this blog handy! When inclement weather is in the forecast, this can be a quick reference on how to prepare and stay safe. Again, the Goodman Elementary project is just one example of the on-time work that we achieve when we, here at Branco, work with you as a team. Staying on schedule in spite of weather delays is key, but your safety is our number one priority, we aim to protect all from any hazard that may present itself, and we can only do that through education and proper training.
Sources:
https://www.osha.gov/dts/weather/winter_weather/windchill.html