The construction industry is consistently evolving and adapting to properly accommodate changes in the workforce, technology and the economy, as a result, 2020 will see many changes to the current industry.  
Leaders in the industry are working towards reforming the industry so their businesses can be resilient against any changes or new trends. Branco's Business Development Manager, Garrett Dowling describes how Branco is working to drive this innovation forward.  
"Listen, learn, read, ask questions and be involved – we have found this to be a pretty bulletproof recipe for success. We are always looking for ways to streamline our processes and have made significant investments in office jobsite information technology (IT) ," he said.  
These investments have given employees the best tools and resources to do their jobs as efficiently and effectively as possible. Branco strives to be up to date on the latest changes in order to be an industry leader in 2020 and the years to follow.  
Beyond changes in the industry, there are also many new trends that will arise. For example, trends like design–build, prefabrication and modular construction projects are all predicted to grow in popularity across the country.  
Looking back at past and current trends helps reveal the top changes that you can expect to see this year. Some of the trends have carried over from past years as they increase in popularity, other trends have slowly faded out and some are brand new and unexpected, but all of these trends will have a significant impact on construction firms evolving to keep up with changes in the industry. 
Increased Use of Technology 
As technology becomes more affordable and accessible construction companies are bound to utilize it. This new tech will not replace workers but will aid their workflow and increase safety standards. They're designed to work alongside your team to make their work more efficient by improving productivity and reducing injuries on job sites.  
Artificial Intelligence (AI) and Virtual Reality (VR) are great examples of new technology being used on construction sites for planning and building designs. AI is consistently advancing to achieve new benefits, these include; 
Helping projects stay on budget and on schedule by accurately predicting cost b

y e

valuating project size and feeding data into a network that classifie

s

 how far along the project is using algorithms as reinforcement learning. 

Branco prides itself on using technology to stay on budget and on time. 

 

Creating better designs using generative design to identify and mitigate clashes in the planning and design between mechanical, electrical and plumbing systems within the architecture. 3D modeling to demonstrate what the building will look like and work through logistical issues and simple mistakes that computer models don't cover. 

 

Increasing safety on construction sites by scanning for safety hazards to compute risk rating for projects so when a threat is detected project 

and safety 

managers can quickly eliminate them. This greatly eliminates injuries and give

s

 greater protection to all employees working on the site. 

 
Another use of technology that is reshaping the construction industry is the use of drones for aerial photos, mapping and collecting real-time data to better understand what's happening on site. This software makes it easy to plan, communicate and keep projects on schedule.  
Overall, technology is reconstructing what worksites look like. Implementing new technology has many great benefits, including drawing interest from younger generations. The majority of Gen Z and Millennials are looking for tech jobs in the robotics industry. Offering them opportunities to work with tech on construction sites can help with some of the strain on firms struggling to retain a well-rounded workforce. 
Changes to the Labor Force 
It's no secret that there has been a huge skilled labor shortage for the entire industry due to older generations retiring and younger generations focusing on jobs outside of the construction workforce. Many firms are revamping their recruitment methods to meet the industry's ever-increasing demand.  
The difficulty of hiring and retaining a well-rounded workforce is making it problematic for construction firms to keep up with high demand. According to Adecco, 74% of firms predict a shortfall of qualified skilled trade workers. 
This has created an emphasis on the importance of apprenticeships. Many construction companies are using this to build the workforce of tomorrow as older generations leave. Apprenticeships involve a mix of on-the-job training and classroom instruction. 
Apprenticeships provide benefits for both workers and employers. They create a pipeline of workers who meet the current and future needs of your business. This investment shows your interest in their future and ties their success to your own while also increasing employee loyalty and productivity.  
Branco has been at the forefront of the industry since 1993 when they started their first apprenticeship program. Branco strived to think ahead in their leadership and training for future generations. Not only do the apprentices succeed but Branco does as well by lowering turnover within the company and gaining a highly skilled and dedicated workforce.  
"Good tradespeople are hard to find in any industry. We will hire and train employees to give them skills to succeed," Dowling said.  
Beyond apprenticeships, many firms are also trying to find new solutions to the problem. To combat the labor shortage, recruiters are also placing their focus on women. Only making up 10% of the current construction workforce, women are a critical part of ensuring the long-term health of the industry.  
While this does require a change in the perception of women in construction, nothing is keeping them from having skills that equal or outperform men in the industry. Having women as a part of your construction team can also create a diversity of ideas by introducing new methods or approaches that have not yet been explored.  
Improvements in Safety, Equipment and Regulations 
Many in the construction industry are focusing on improving safety standards and using safer equipment. By utilizing technology, taking advantage of proper training and using new equipment like cooling vests and moisture-wicking fabric many are creating safer work environments for their employees and workers. 
A lot of safety equipment is working to create a safety aware environment using tech. This encompasses a constant flow of information on everything from temperature spikes to unseen dangerous conditions. Smart badges can feed real-time data back to offices to show where workers are and their proximity to potential dangers.  
Branco is constantly making steps forward to keep up with the advancement of new safety equipment and technology. Dowling said better safety equipment is a top priority for all Branco employees.  
"Safety equipment is always evolving and manufacturers of this equipment are always seeking ways to advance their equipment. We spare no expense to keep our people safe," he said.  
In addition to safety while on the job, safety regulations have changed to protect the health of workers from COVID-19. OSHA guidelines for construction sites are similar to that of any other workplace, encouraging workers to stay home when sick, wear masks and avoid physical contact.  
Construction sites are also expected to include handwashing stations so employees have access to soap and water and are provided with alcohol-based based hand sanitizer. Shared tools and equipment must also be cleaned before and after each use using proper sanitizing techniques and alcohol-based wipes.  
Regulations are also changing throughout the industry regarding land and codes. Regulatory burdens on land development are impacting the prices and more building codes are being established and changed, which creates more potential impacts on budgeting.  
Technology Revolutionizes New Concepts and Methods 
As we continue through the year, the trends for 2020 are clear. With new technology arising, new concepts and methods of construction have also arisen. Some of these groundbreaking changes include;  
Modular Construction: Every day more and more buildings are being constructed offsite by prefabricated modular units. This is most likely a result of the lack of skilled labor and affordable housing, as well as the rise of material costs. These types of buildings can be constructed quicker to get a business up and going faster. While this is a big trend nationally, it is not something that is growing in popularity in the Midwest just yet.  
Building Lean: With the expected economic downturn of 2020, many in the construction industry are discovering the benefits of reducing inefficiency and improving productivity levels by doing everything they can from eliminating waste of excess materials to overlapping tasks in the workflow. Branco has seen a huge increase in the prevalence of green technology in construction as people become more educated on the negative effects of past methods of construction.  
Open-space Concepts: Commercial designs are mirroring popular concepts that you see in most homes. These are often open-space, open-air, big spaces. It may be possible that moving forward this becomes less popular as businesses adapt to new regulations after COVID-19 and choose to make separate offices for each employee.  
Design-Build: The popularity of this method is growing because many prefer hiring a single entity to design and construct a project. The Design-Build method allows the work to have collaboration among a team. This approach moves the process along quickly and efficiently so your business can open sooner, saving you time and money. Branco has been involved in far more Design-Build projects in the last 2-3 years than ever before.  
Construction Manager at Risk: Another popular method for Branco is Construction Manager at Risk (CM-R). This delivery allows the Construction Manager to act as a consultant to the owner in the development, design phases and construction. Getting your Construction Manager on board at the start of the project just makes sense and allows them to act in your interest by controlling construction costs. Branco has completed numerous types and sizes of CM-R projects, all of which have saved the owners money and finished ahead of schedule.  
Advancement and improvements in technology are making new concepts and methods available. These can help decrease project timelines and costs. With the right changes and implementation of technology, these trends can continue to revolutionize the way construction firms work.  
Growing Segments in Construction 
Most of the construction market has been enjoying several years of steady growth. Many indicators suggest that the construction market may be growing slower over the next few years. Regionally, there are still many lucrative business opportunities for construction.  
There has been an amazing amount of office construction with a steady national basis that doesn't seem reliant on other cycles in the market. According to Dodge Data and Analytics, this is cushioned by high value data construction.  
Although the educational and health care segments have not seen a lot of growth in the past, these are expected to show better growth in the short-term future. Dodge is forecasting increases in spending for construction of up to +4.4% of growth in these segments.  
As the last half of the calendar year approaches, Branco has upcoming undertakings across all segments of construction with numerous commercial, retail, religious and educational projects including the Neosho and Clinton School projects.  
"We continue to stay reasonably busy with our heavy civil and highway crews despite the cuts to the budget.  All in all, I think we are sitting in a pretty good spot, all things considered," Dowling said.  
Handling the Effects of COVID-19  
Many contractors are worried about the threat of a potential recession and the transmission of the virus between employees. Currently, many sites are dealing with problems in receiving their supplies due to disruptions in other industries and new restrictions placed on their operations.  
According to DODGE Data and Analytics, 67% of contractors are experiencing project delays due to COVID-19, with the worst impacts expected within 3 months. Currently, Branco has seen only minimal delays in the Midwest.  
The construction industry will play a vital role in the post-pandemic recovery of our communities. To recover from this, construction firms must focus on increasing productivity, reallocating resources and preparing for the future. Branco has been able to place their focus on these preparations in order to prevent any setbacks as a result of COVID-19.  
"In situations like COVID-19 it's very hard to know what's going to happen next but being proactive as opposed to reactive has proven to be a successful strategy, as we've been able to keep 99.9% of our team healthy and at work," Dowling said.  
This future will look somewhat different because of the impact of COVID-19. Across all kinds of businesses, we are having to reimagine, remodel and reconfigure the new normal. Dowling describes the steps Branco is taking for the safety of both their employees' health and safety.  
"Our ownership was very proactive in devising a plan that they felt like would help us during these tougher times and made the decision to shift our point of focus to projects that keep our employees busy, as well as projects that offer longer schedules," he said.  
Currently, those in the construction industry are increasing digitization, moving collaboration online and rebalancing supply chains to secure critical materials. These changes will most likely be short term as the virus runs its course.  
Looking ahead, as the world returns and begins to reopen, we can also expect to see some long-term effects. Some of these changes may include an increase in offsite construction and designs geared towards healthier living and a sustainable lifestyle utilizing new trends like modular construction.  
Many of these trends will come and go, as newer and more innovative trends arise, but the construction industry will still rely on the most important factor of building trust with the community and those you do work with. So, while Branco does strive to keep up with industry trends, their focus and motivation will always be to meet your construction needs and fulfill their promise to you.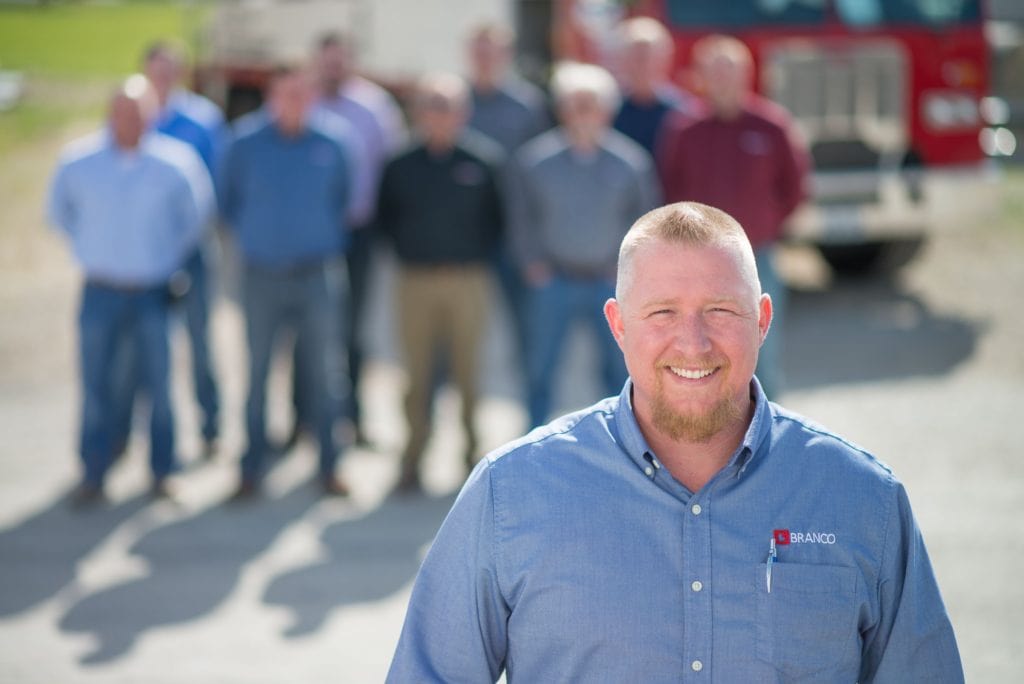 "Investors aren't quite as worried about saving every last penny as they are making sure they know and trust who they chose to do their work, in large part because the older time tested companies have proven to stand behind the claims they have made for the past 87 years like Branco," Dowling said. "Our word is our bond and we do what's right and 'let the chips fall where they may' as our CEO John Branham says."