As a job seeker, connecting to prospective employers who are looking for already-skilled and qualified workers can seem daunting, and as an employer finding qualified candidates with previous experience in a desired workforce can be time consuming and costly. When considering options, job seekers and employers more and more often are looking toward registered apprenticeship programs as a mutually beneficial employment opportunity. An apprenticeship program should balance between the needs of the employer, the apprentice and the incumbent workforce
Regardless if just now entering the job market or rather continuing the job search, knowing the available options for entering the workforce can be a beneficial tool. Unlike what many may be lead to believe, a 4-year college degree, though beneficial in many ways, isn't the only path to a successful career. In 2018, more than 238,000 individuals nationwide entered the apprenticeship system and there are over 585,000 apprentices currently gaining the skills needed to succeed while earning wages. With more than 23,400 registered apprenticeship options across the nation, it is a good time to look at a registered apprenticeship as a potential career opportunity.
What is a Registered Apprenticeship?
Developed by the US Department of Labor, a program called Registered Apprenticeships is known as an 'earn to learn' model of on-site job training. There are nine (9) apprenticeship industries that are recognized and available through the department of labor, with carpentry, via the construction industry, being labeled as one of the more high-demand construction apprenticeships available to learners. But what does it mean to be a part of a registered apprenticeship?
There are five core components that construct the essentials of what it means to be a part of a registered apprenticeship, according to the US Dept. of Labor:
Direct Employer Involvement; prospective employers are providing direct information to learners and providing skills needed by their desired workforce.
Structured On-the-job Learning; gaining workforce skill won't mean being taught by a professor who has never been in the industry themselves, learners are taught by an experienced mentor for on-the-job training.
Related Instruction; all coursework and training will be technical and academic experiences that apply direct to the job learners wish to succeed at.
Rewards for Skill Gains; learners receive progressive wage increases as their skills and knowledge increase. There is no waiting to graduate in order to receive compensation for learning.
National Occupational Credential; learners who complete the program and become registered apprentices receive a national recognized credential that is also nationally portable.
In addition the components above, an apprenticeship is an exceedingly flexible option. They are aimed at, and succeed in, creating trade professionals that make up highly skilled workforces. A successful career is completely accessible for all.
Employer Benefits of Registered Apprenticeships
By utilizing a registered apprenticeship, prospective employers can build a pipeline of talented and highly skilled employees that have already gained the industry credentials necessary to succeed. Employees that have completed an apprenticeship have greater problem-solving ability within their field of knowledge and reduce the need for on-site supervision, meaning employers can utilize their more senior employees as needed. As the data shows, 94% of apprentices continue on with their employment after completing an apprenticeship, this means that employers reduce turnover rates and, additionally, improve their retention rates of employment. They also see less of a need for advertising and recruiting costs when a registered apprenticeship program is in place, as it fosters a diverse and inclusive culture of job-seekers who already willing to learn and work.

How to Create a Registered Construction Apprenticeship Program
Companies may be thinking, that sounds great! How can I create a registered apprenticeship program? Luckily, there are federal resources available through the Department of Labor's Apprenticeship Toolkit. Any employer, big or small, can participate, whether the apprentice is a new hire or a current employee. Through the Workforce Innovation and Opportunity Act, there are over $1 billion available for employment and training service programs that provide support services in order to help jumpstart registered apprenticeship programs. Additionally, apprentices may be eligible for federal financial aid through Pell Grants and federal work-study grants that can average up to $3,000 per apprentice.
So along with financial help available to potential job seekers, an employer won't alone bear the additional cost of educating apprentices or the cost of creating an apprenticeship program.
Once a company's registered apprenticeship program is in place, employers can list available apprenticeship positions that better enable job seekers to find your available workforce. Employers can also utilize and work with partners to expand a registered apprentice program once in place, with allies such as community colleges, workforce investment boards, local chambers of commerce, and state workforce development boards; there are so many ways to advance your workforce and your own company through apprenticeship programs, and so many willing to help.
Benefits of a Registered Program for the Apprentice
Registered apprenticeships create an industry-driven and high-quality career pathway for willing learners. Prospective employers have the opportunity to develop and prepare their future workforce, while offering their apprentices paid work experience and guaranteed wage increases as apprentices develop new skills. On average, those who complete a registered apprenticeship have an annual salary of $70,000 or more.
Furthermore, registered apprenticeship programs are flexible and less demanding. They allow learners to ease the transition from school to career by permitting apprentices to work and learn at the same time; there is no multi-year period where learning has to be the main focus before receiving compensation. Apprentices, through on-site learning, gain real workplace-relevant skills in their chosen field while gaining academic credit toward a college degree, if desired, all with no student debt. Training is done with mentors in chosen industries, so if it is "all about who you know" those mentors will help advance chosen careers through real on-the-job experience and connections.
The switch from school to workforce doesn't have to be daunting, but for a high school student who finds the idea of a registered apprenticeship enticing as an option to build their career, there are programs set in place to specifically aid students.
A High School Counselors Guide to Apprenticeships
Post-graduation, many of those aspiring to enter a specific workforce are guided to believe that a 2 or 4-year college degree are the best, or only, option. That is simply not the case. A registered apprenticeship as an option to earn a living wage, while earning workforce experience and a national credential in their area of study, can be a more financially beneficial solution, long-term.
Many communities have taken to the creation of programs that engage students in apprenticeships throughout their high school experience. Students have the ability to become exposed to potential career pathways, which might otherwise have been unknown, and further their education. Businesses that engage high school students in apprenticeship programs are providing themselves with a wealth of workers that will already have the skills needed, once graduated, to begin entering the workforce. There are pre-apprenticeship programs available for high school students and apprenticeship programs that begin in high school.
Apprenticeships for high school students, just as with job seekers, combine the academic and technical classroom instruction with real work experience. Youth apprenticeship programs create a foundation for students to choose multiple career paths post-high school. The industries available range from childcare to manufacturing, from healthcare to electrical, and allow students to craft their interests and become a skilled workforce early on.
When educational components meet business needs, young apprentices can be prepared for a successful career. High school apprenticeships create opportunities for applied learning and allow youth to build relationships with industry leaders and connect with future employers.

What Branco Has to Offer
Branco is an industry leader in trade apprenticeship programs. For over five years, Branco has been partnering with Crowder College in order to jointly administer their Carpentry Apprenticeship Program. With this collaboration having been the first of its kind in the United States, it has set a unique precedent within the industry. Although Crowder College implemented their Carpentry Apprenticeship Program in 1993, with the involvement of Branco, the program has exceeded expectation and sent many apprentices into the workforce confident and skilled.
Along with Crowder College, in the fall of 2019, Branco partnered with Ozark Technical Community College. Branco's apprentices can gain classroom learning a few hours a week at OTC's Springfield campus, in addition to working a full 40-hour week alongside skilled craftsmen on active construction sites. As an apprentice, as stated above, wages will increase as skill level and experience increase. Registered apprentices, through Branco and partners, will graduate the program as journeyman carpenters with a nationally recognized certificate issued by the US Department of Labor.
Through Branco, apprentices are paid for their commute time and classroom attendance, and additionally in order to remain highly flexible, distance learning is available to apprentices who are out of state or cannot make it to class due to current jobsite demands.C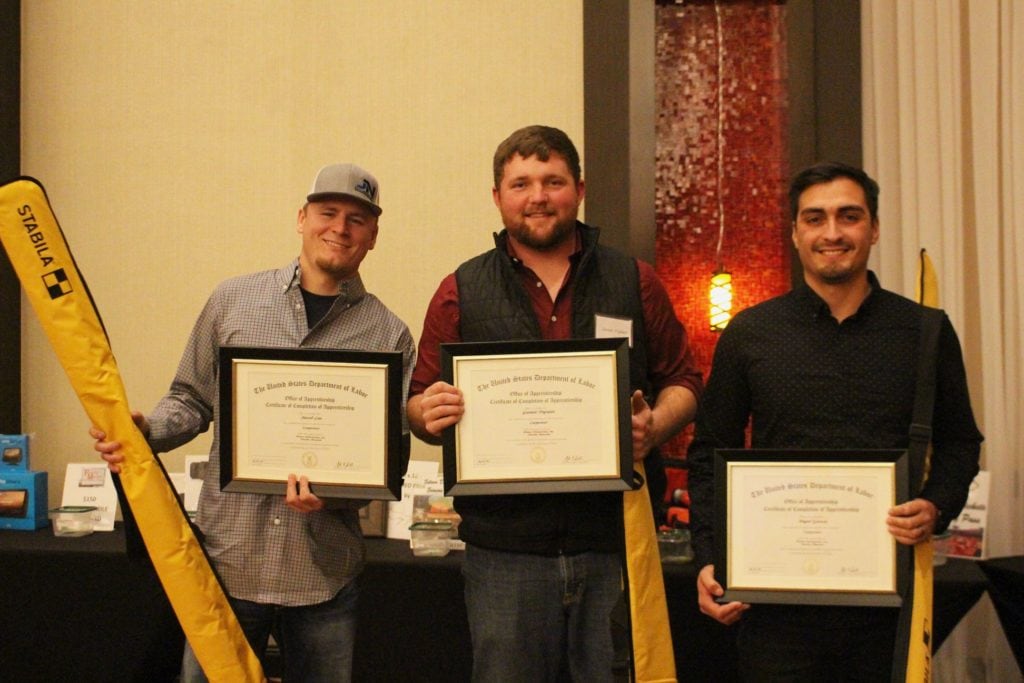 Branco provides 100% of the cost of the construction apprenticeship program for it's apprentices and if a student is enrolled for additional classes, Branco will pay half (1/2) of the apprentice's tuition, which means a student would only need 16 additional hours to complete an associates degree with little to no student debt. That means, as an apprentice, not only are apprentices paid for work, but also they gain on-the-job training with industry professionals, all while working toward academic accomplishments that progress potential career.
40% of Branco's employees, since 1993, have completed a registered apprenticeship program while 1/3 of Branco apprentices have gone on to higher-level positions within the company. Branco is consistently the only employer-apprenticeship program in Southwest Missouri, for construction, that is non-union. If potential apprentices are interested in becoming part of Branco's Registered Apprenticeship Program there is an online application or an in person application at our headquarters in Neosho, Missouri. Branco is an equal opportunity employer and an affirmative action employer, and we wish to give job seekers and potential apprentices the confidence and skills needed to enter the workforce. We believe, as do the 585,000 apprentices currently studying in the United States, that a registered apprenticeship allows learners to create a financially stable and successful career path. To utilize Branco's online application, simply apply online here.