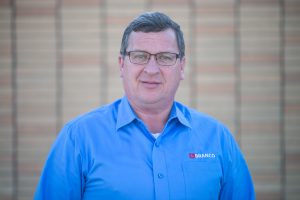 NEOSHO, Mo—Terry D. Vaughn, Safety Director, has completed all requirements for certification by the Board of Certified Safety Professionals® (BCSP®). This highly respected achievement is awarded by BCSP to individuals who meet eligibility and experience criteria in the Safety, Health, and Environmental (SH&E) disciplines and have passed a rigorous examination. Vaughn joined Branco in 2008 and has more than 17 years of industry experience developing, implementing, and managing health and safety policies and procedures in the field and the office. He was promoted to Branco's Safety Director in 2017 and plays an integral part in ensuring that all members of the Branco team maintain quality of work standards that create a culture of safety.
"Terry does an excellent job cultivating a safety-first culture and ensuring we perform our jobs in the safest manner possible," said Justin Branham, LEED A.P., President. "As we know, safety issues have become more complex over the past decade. Terry has continued to evolve and has been an excellent asset to our team. We are very proud of him for this achievement."
Today's safety professionals must work to be prepared to manage a variety of health and safety situations. Branco Enterprises understands the importance of investing in employees through continuing education and professional development programs. The company is committed to helping employees reach professional goals while, at the same time, providing the best service internally and externally.
BCSP credential holders are among the most highly trained, educated, and experienced individuals in the safety field. Achieving a BCSP certification demonstrates that the individual has mastered the core competency required for professional safety practice. Those credentialed must recertify every five years to maintain certification, ensuring they remain knowledgeable in their approach and continuously improve the profession.
"Maintaining Safety, Health, and Environmental practices requires the knowledge and skills of certified practitioners," explains BCSP's CEO, Christy Uden, CAE, IOM. "We are proud of those who join us in advancing safety through quality certification."
About Branco Enterprises
Established in 1933 and headquartered in Neosho, Missouri, Branco Enterprises, Inc. is a leading provider of General Contracting, Design-Build, and Construction Management services in the four-state region. Originally named Branham Construction, Branco Enterprises was incorporated in 1976 and added a Springfield, Missouri office in 2019. The company has extensive experience in commercial, industrial, aquatic, education, religious and civil projects. Branco was built on the belief that doing the right thing and building quality products is the only way to do business—a principle that continues to guide the company.
About the Board of Certified Safety Professionals (BSCP)
Headquartered in Indianapolis, BCSP is a nonprofit corporation recognized as a leader in high-quality, accredited credentialing for Safety, Health, and Environmental (SH&E) Practitioners. BCSP establishes the standards and certifies competency in professional safety practice. More than 100,000 individuals have earned BCSP certification since 1969.