Branco Officials to Receive State Education Honor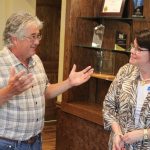 By Mike Elswick
Branco Enterprises officials on Wednesday were notified the firm is the only company in Missouri to receive a statewide recognition for its efforts in workforce training and development through an apprenticeship program done in conjunction with Crowder College.
Crowder President Dr. Jennifer Methvin surprised Branco CEO John Branham with the news during a break of an advisory board meeting the company was hosting. She said Crowder nominated the company through a program kicked off in the spring of 2015 when the company approached the college to help develop and implement an apprenticeship program to train the firm's workers.
"The first class began with 13 full-time employees of Branco who are on the clock while attending classes," Methvin said. "Branco not only pays for the students, but they also cover many of the major costs for supplies and a portion of the instructor's salary."
Branham said he was honored and surprised with the news when Methvin presented him a letter from the association that he read to staffers and representatives from Crowder College and the Neosho Area Chamber of Commerce. The actual award will be presented at a convention in November.
"We couldn't have a better partner to work with than Crowder College," Branham said. "From all of us here at Branco, we're very honored and thank you."
Methvin said the association is made up of 12 colleges from across the state representing lots of students and workers.
"You don't realize how exceptionally important it is that Branco invest," she said. "We can't charge students tuition enough to pay for the kind of training you guys are providing and we thought that was pretty important."
Methvin said the nomination represented the dedication of Branco to a true partnership.
"The program is a testament to what a college can accomplish and achieve with industry partners," she said. "The program is thriving, evolving and will continue to flourish and provide the groundwork for similar programs in the future.
"Thank you to Branco Enterprises, Inc. for being an outstanding partner in industry to Crowder College and serving the students of our communities so well.
Branco has administered an apprenticeship program for over two decades. Initially this program was a collaboration between several contractors in the area, but eventually became an in-house program for Branco.
In August 1993, Branco registered its program with the United States Department of Labor. Branco believes in the philosophy of "growing its own employees," according to a statement from Brennan Robinson, Branco marketing coordinator.
Branco President Justin Branham said the program is unique in the nation:
"As far as we know, there is no partnership like this in the country," Justin Branham said. "We are the first company to partner with a local college for the administration of an apprenticeship program, while also allowing our employees to obtain college credit at the same time.
When company officials first met with Crowder there was no model to follow.
"Everything was literally built from the ground up and we have figured things out along the way," Justin Branham said. "We feel that we are forging a path and creating a model which other employers and colleges can duplicate."
The company was founded in 1933 in Neosho.
Originally published by the Neosho Daily News.